WBT Pole terminal 0765
---
910,00 DKK
1.110,00 DKK
WBT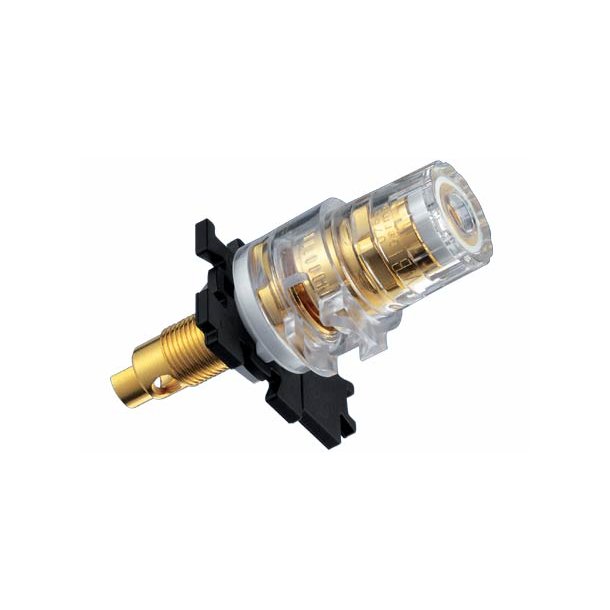 Beskrivelse
---
Midline pole terminal:

Pris for 4 stk. (2 rød & 2 hvid)

» Extremely high contact pressure for spades thanks to fine thread and cross-milled surface

» Pat. two-piece clamping nut for maximum strength of connection

» Solder or crimp connection

» CE and IEC compliant thanks to full Makrolon insulation

» 24 carat multi layer gold plating

» Max. constant current 70 A

» Twist-proof mounting

» Puzzle plate system

Midline Pole Terminal
Copper alloy, gold-plated
with Makrolon full insulation, CE and IEC compliant


The clamping nut is designed to provide a perfect grip. The gold-plated surface prevents any type of corrosion. IC and IEC compliance are achieved by transparent full Makrolon insulation of all live parts.


Outer connection
>> 4 mm banana plug
A 4 mm banana plug can be connected in the front part of the clamping nut.


>> Spades and crimped cable ends (up to 6 mm²/ 9 AWG)
You can use the patented WBT clamping nut system to make high-pressure spade and crimped cable end connections. The cross-milled surface on the bottom of the pressure piece creates a permanently secure connection with extremely low transition resistance. It also prevents the splitting of cable strands if exposed cable ends are used.